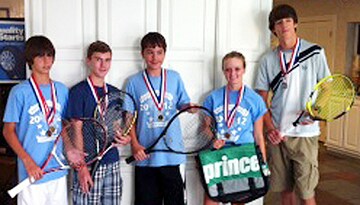 August 19, 2012

Climbing The Ladder
Todd Nassief's idea benefits tennis players
By TOM HARRIS
For the Star Beacon The Star Beacon Sun Aug 19, 2012, 10:58 PM EDT
Stunned by a lack of response to his question, St. John tennis coach Todd Nassief came up with an answer that got a response that stunned him.
"One day at practice, I asked for a show of hands from those players who had practiced tennis since the end of last season. No one raised a hand," Nassief said. "Then I asked if anyone had gone out and just hit the ball. Still, no one raised a hand. How many had even picked up a racquet? No hands."
With that, Nassief began looking for a way to encourage the Heralds to spend a few hours here and there during their summer vacations on the tennis courts. He wanted something that would provide both the opportunity and the incentive for the players to get out.
"I wanted to do something different," he said. "The idea came to me while I was working."
Nassief's idea was the Ashtabula County Tennis Ladder. The Ladder would provide a mechanism for the Heralds to challenge one another to matches during the summer and to track their records.
"At first, the Ladder was going to be just for the St. John kids, but some of the other coaches heard about what we were doing and wanted their kids to get involved," Nassief said. "It really took off. I never imagined The Ladder would be as successful as it turned out to be."
Several area coaches, including Jefferson's Lou Murphy, Lakeside's Bob Walters and Geneva's Phil Dubsky, supported the idea, and altogether, more than 60 players – mostly junior high and high school students but with a smattering of college kids and adults – played 168 matches in The Ladder, which ran from June 1 until Aug. 12.
Thursday at Nassief Honda on Main Ave., The Ladder participants were honored.
"I had to work, so they had to come to me," Nassief said.
Adam Laitinen, a Conneaut eighth grader, finished the summer with the best record, 17-3. Lee Miller, an Edgewood sophomore, compiled a 6-1 mark; Alyx Lynham, a junior at Geneva, went 6-2; Joey Ferrante, an St. John freshman, 13-10; and Brock Ebersole, a Geneva sophomore, 5-2.
"The matches gave me the chance to meet new people and face different styles of match play," Lynham said. "It was a great experience."
"The Ladder gave me a chance to play with better opponents," Braden eight grader Corey Piltz said.
And he took full advantage of the opportunity, playing a Ladder-high 24 matches. Ferrante played 23; Laitinin 20; and Ethan Czup, an St. John seventh grader, and Kayla Johnson, a Lakeside junior, each played 15 matches.
Gold, silver and bronze medals were given to the top three players in each category. Some of the players received gifts of bags or racquets, which were donated by Jeff Hawes, a Geneva graduate and current national vice president of the United States Professional Tennis Association.
While Nassief, with invaluable help from Geneva tennis icon Arnie Bradshaw, St. John's Jen Allen and Michael Anderson, and Edgewood's Dave Fowler, established and maintained The Ladder's structure, it was the players who made it run. Using The Ladder's website, the players challenged each other to matches, arranged the dates, places and times of the matches and posted the results.
"It worked beautifully," Nassief said. "The kids loved using the website. And they deserve all the credit. They're the ones that kept this thing going."
The most frequently used courts were those at Edgewood, Lakeside and the Harbor Topky Library. The players officiated their own matches.
"The players self-policed the matches," Nassief said. "And what was nice, every week we'd update the website, and I'd ask the players to contact me privately if there were any problems in their matches or the scoring. I never got a complaint."
The Ladder received rave reviews from the players who participated. "It helps you prepare for your next high-school season," Edgewood senior Ronnie Brady said.
Sara Wilpula, an Edgewood senior said, "I hope I can play more matches next year so I can continue to improve."
Play in The Fall Ladder began Friday and will continue through Oct. 28. Anyone interested in participating should email Nassief at todd@nassief.com. And plans are in the works for another Ladder next summer.
Hours
Monday

9:00am-8:00pm

Tuesday

9:00am-6:00pm

Wednesday

9:00am-6:00pm

Thursday

9:00am-8:00pm

Friday

9:00am-6:00pm

Saturday

9:00am-4:00pm

Sunday

Closed