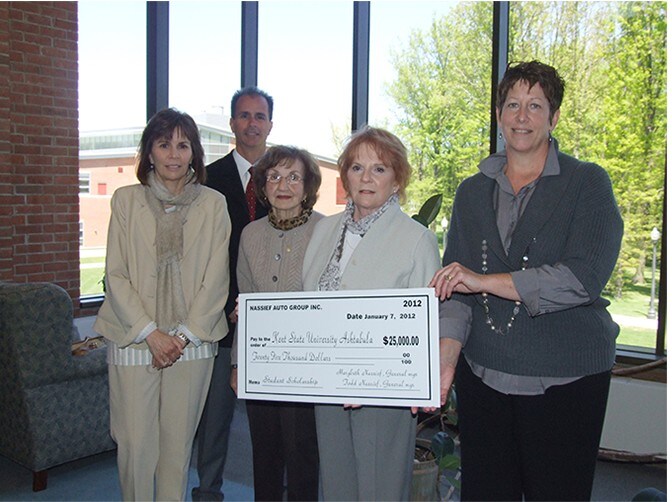 The Nassief family has endowed a new scholarship for Kent State University at Ashtabula students pursueing business related degrees. The family recently presented a check for $25,000 to establish the George D. and Helen L. Nassief  Endowed Scholarship.
The family has deep roots in Ashtabula and wanted to create a lasting legacy in honor of the family patriarch George and matriarch Helen. The Nassief family reputation has been built on the foundation of education, disipline and strong work ethic.
The Nassief family has owned its car dealerships for more than 55 years. They have an equally long history and strong desire to give back to their community. Kent State Ashtabula is grateful for the support the family will be providing students for the years to come.
The scholarship is slated to be awarded for the first time in fall of 2013.

Nassief Auto Family- 2012-2013 AACCI Community Service Award Recipient

The Nassief Auto Family takes pride in continuing to live out George Nassief's legacy of community involvement and service. The Nassief Family's desire to support the growth of the community and the betterment of their local neighbors shine through in all that they do for the Ashtabula area.
George Nassief considered serving on the Ashtabula County Medical Center's (ACMC) Board and the  Foundation Committee along with his Rotary membership as some of his greatest honors. In the past, Helen Nassief proudly led the March of Dimes Walkathon for Ashtabula County, volunteered at various area schools, and took on leadership roles for the Boy Scouts and Girl Scouts. Ann Nassief, George's sister, has served on the board at Catholic Charities and has been active at St Joseph's Church in Ashtabula.
George and his wife Helen raised five children; David, Sam, Marybeth, Susan and Todd. The couple actively supported their children through school, church, athletic, and charitable affiliations throughout the years and raised them by the same Golden Rule their parents had taught them- treat others the way you want to be treated. Seeing their parents live by example, the Nassief children have carried on the legacy of community involvement.
The Nassief Auto Family is proud to support the local Animal Protective League, Humane Society, United Way Foundation, American Red Cross blood drives, Beatitude House, Goodwill Industries, local safety forces, schools, churches, Catholic Charities, and more. The Nassief's support of education includes recently created scholarships for both Kent State University at Ashtabula and St. John School. The family feels that their investment in local education is key to Ashtabula's future success.
The Nassief Auto Family will tell you that their tradition of giving back to the local community is just the way they do business, but their contributions have benefitted many in our area and make them an outstanding community partner for Kent State at Ashtabula, the local community, and beyond.

AACCI COMMUNITY SERVICE AWARD
The Community Service Award is given by the Ashtabula Area College Committee, Inc. (AACCI) in recognition of the contribution and leadership the recipient has made in support of education in Ashtabula County. Past recipients include the following:
     1990-91   Douglas A Hedburg                              2001-02   Marta K. Stone
     1991-92   The Ashtabula Foundation                 2002-03   Patricia Seymour & Linda Coblitz
     1992-93   Jerome Brockway Ph.D.                      2003-04   Lake Erie International Model UN
     1993-94   Jane A. Knowlton                                 2004-05   Mentorship Program
     1994-95   John K. Mahan Ph.D.                           2005-06   Eleanor Jammal
     1995-96   Joseph M. Cumo Ph.D.                        2006-07   Glen W. Wagner
     1996-97   Tim Hubbard                                         2007-08   L. George Distel
     1997-98   Nicholas J. Jammal                               2008-09   Stuart W. Cordell
     1998-99   Joseph W. Mayermick                         2009-10   Joseph Vendel
     1999-00   Barbara P. Wiese                                  2010-11   Richard Selip
 

 

 

 

2000-01

 

 

Becky Phipps & Emily Chismar

           2

011-12

  

Wilford N. Behm

  

 

 

Hours
Monday

9:00am-8:00pm

Tuesday

9:00am-6:00pm

Wednesday

9:00am-6:00pm

Thursday

9:00am-8:00pm

Friday

9:00am-6:00pm

Saturday

9:00am-4:00pm

Sunday

Closed