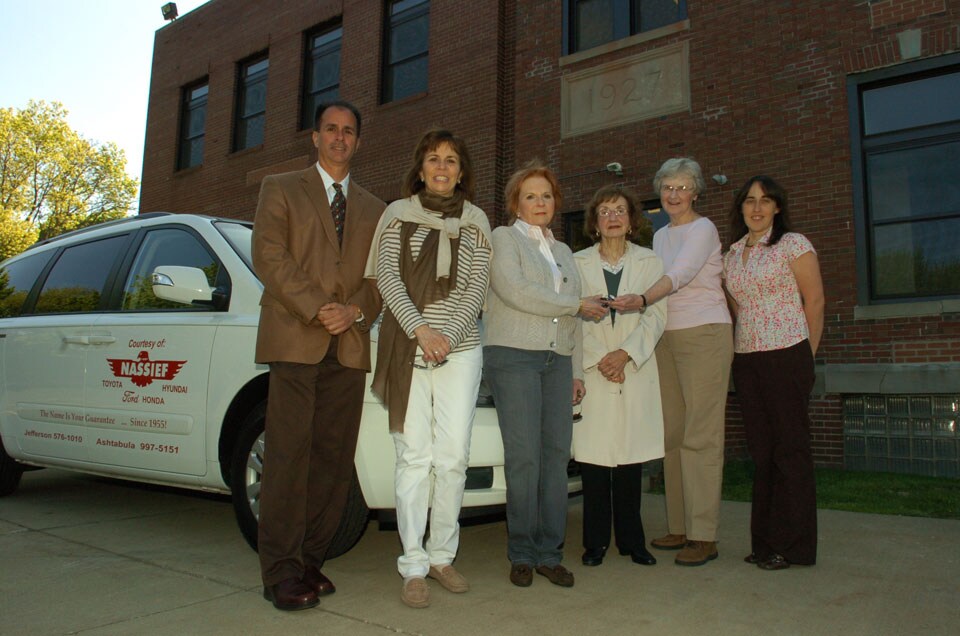 Its virtually impossible to get a derailed life back on track without wheels.

For future residents of the Beatitude House on Lake Avenue, that issue has already been settled.
On Friday, the Nassief family donated a seven-passenger Kia van to the transitional housing ministry.
We had just started thinking about how we would get a vehicle for the Ashtabula site when the phone rang, said Teresa Boyce, operations manager at Beatitude House. Having a vehicle on-site is so important to our program, because it allows us to provide transportation for the families we serve. Marybeth Nassief said the 2011 model van is valued at around $19,000. She said the family decided
to donate it after reading a newspaper article about the house and its mission of helping disadvantaged women and children.
Jennifer Roberts, development associate for Beatitude House , said there will be many uses for the
van once the house is occupied. It will be used for daily transportation needs, going to doctor appointments, taking children to school, job interviews and whatever else they need, she said.
Many disadvantaged women dont have reliable transportation, Roberts said. Or if they have a car, it has become a money pit they cant afford because of the repairs, maintenance and insurance.
Beatitude House is sponsored by the Ursuline Sisters of Youngstown. By creating homes, providing educational opportunities and fostering healthy families, the sisters provide women the opportunity to transform their lives. Marybeth Nassief said the family wanted to help the outreach because it is a great concept and will help local women and children. Thats the key, she said.
The van donation came as a surprise, said Sarah Masek, Beatitude House coordinator. I had not thought this far ahead, she said. We had a car donated at the other site, and we thought it will work for here. When we got this, this wonderful, just the right thing. On Friday, Masek was already talking about the policies that planned to put into place for passengers. No drink, food or smoking in it, she said. Now all she needs is a driver (volunteer), Roberts added.
The van is the latest donation from a community that has shown great support for the outreach, which is housed in the former St. Josephs school building. Masek said there have been donations of furniture and appliances from both Sears and Griffiths. The response of the Ashtabula community has been truly amazing, said Patricia McNicholas, executive director of Beatitude House. The Nassiefs are another example of the rallying spirit that exists there. Finishing touches are being made to the house, which will offer 10 apartments ranging from one to three bedrooms. Applications are being accepted for the apartments, the rental cost being a percentage of the womans income. The community will have a chance to tour the apartments on June 1 and June 3. The ribbon cutting is 2:30 p.m. June 1 with an open house until 5 p.m.; the June 3 open house is 11 a.m. to 2 p.m. online: beatitudehouse.com  .
Hours
Monday

9:00am-8:00pm

Tuesday

9:00am-6:00pm

Wednesday

9:00am-6:00pm

Thursday

9:00am-8:00pm

Friday

9:00am-6:00pm

Saturday

9:00am-4:00pm

Sunday

Closed